Pam McConnell has served the residents of downtown Toronto since 1982, first as a school trustee for 12 years, and since 1994, as a City Councillor.  Pam has focussed her public service on working with residents and groups to build healthy communities for all Torontonians.
Currently in her seventh term as City Councillor, Pam is also serving as Deputy Mayor, with the responsibility of leading Toronto's Poverty Reduction Strategy.  Pam is a member of the Government Management Committee, which oversees the City's assets and administrative operations, the Affordable Housing Committee, which directs investment to affordable housing opportunities, and Toronto & East York Community Council, which is responsible for local planning and neighbourhood issues.
As City Councillor for Ward 28 (Toronto Centre-Rosedale), Pam continues to oversee many important city building projects, such as the revitalization of Regent Park, including the recently opened aquatic centre and central park.  With community members, Pam is leading improvements to the St. Lawrence Market Precinct and secured funding for the new $94 million North Market building.  She continues to work with residents and Waterfront Toronto on the development of the West Don Lands and East Bayfront neighbourhoods, creating healthy, sustainable and vibrant communities, as well as a reimagining of the Jack Layton Ferry Terminal and Harbour Square Park.  Pam is also working on plans for the First Parliament Site and improvements to parks and greenspaces in Corktown, Cabbagetown, and St. James Town.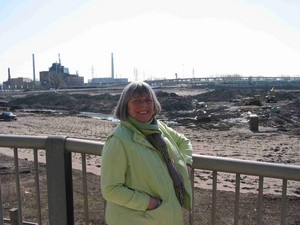 Some of Pam's initial work as a Councillor centred around children. As a member of the Children and Youth Action Committee, she led the campaign against user fees in City recreation centres and developed the Children's Report Card. This work for children and youth continues, and in 2005, she celebrated the opening of the Wellesley Community Centre, the first built in Toronto since amalgamation, and recently secured funding for an aquatic centre for St. James Town.
In addition to her duties at City Hall, Pam is an active and well-respected participant in national and international arenas.  Since 1999, she has represented Toronto at the Board of Directors of the Federation of Canadian Municipalities (FCM), and she currently serves as the Vice-Chair of FCM's Social-Economic Development Committee.  Pam also represents Toronto as an Executive member at United Cities and Local Governments (UCLG), an international organization of local governments that advocates and shares best practices among municipalities.
Some of her most significant work at FCM has been as a founding member of the Standing Committee on Increasing Women's Participation in Municipal Government and served as its Chair from 2007 to 2012. She has been instrumental in the formation of the action plan to encourage and support women seeking municipal office and in the creation of materials and programs being implemented across the country.
As Chair of the Toronto Police Services Board from 2004 to 2005, and Vice-Chair from 2005 to 2010, Pam worked to address racial profiling in the Service, challenging the police complaints system to ensure independent civilian oversight, bringing community policing back to the City's neighbourhoods, and launching an investigation into paid duty to save tax dollars.
In her time as school trustee, and as Chair of the Toronto Board of Education in 1992, Pam was well known as an advocate for children living in poverty. Her accomplishments during that time include helping to found Parents for Better Beginnings in Regent Park, the Brighter Futures – St. James Town health project, and the Student Nutrition Coalition, which began the breakfast and lunch programs in Toronto schools.
In 1997, she received an award from the Duke of Edinburgh for her work with inner city youth. In 2013, Pam received the Queen's Diamond Jubilee medal, in recognition of her decades of public service.
After living for almost 40 years in Spruce court Co-op in Cabbagetown, Pam and her family now live in the revitalized Regent Park.
———————————-
Council Committees
Community Agencies and Appointments
Business Improvement Areas